Have you been searching for a set of speakers for your bedroom? Well, choosing the right bedroom speakers is very different from choosing bedroom decor or furniture. Moreover, speakers for bedrooms are typically compact audio equipment designed for use in smaller spaces.
Invest some time and effort into doing the research before making a purchase. But don't worry if you don't know how to begin your investigation; we've got you covered.
This article will tell you about bedroom speakers, so let's get to it.
Roundup of the Best Bedroom Speakers
Things to Consider When Buying a Speaker for Your Bedroom
Before you go out and spend a ton of money on new speakers, here are a few of the things that you should be on the lookout for before making your purchase:
Size of the Room
Due to the limited space, you have to use a certain kind of speaker, which should make it easier for you to choose where to put them and help you narrow down your alternatives. For example, if you can only put them next to the wall, remember that most speakers need some breathing room to sound their best. In addition, several high-quality speakers produce excellent sound even when placed near a wall. Keep in mind that sound waves are impacted by their environment no matter how far away they are.
Impedance
If you're on the market for some new speakers, you might come across a term called "impedance." which is an electrical characteristic measured in ohms. The impedance of your speakers is the amount of resistance they present to the electric signal produced by your amplifier. Even though it could seem counterproductive, resistance is quite important. Therefore, the amplifier must run across some resistance to the power it is putting out.
Usage
You don't need massive speakers or the best surround sound system to get great sound. Instead, think carefully about how you like to listen to music. A single pair of speakers may be plenty for you to enjoy the high-quality sound when viewing TV and movies if you often listen to music. If you're an infrequent music listener who won't be able to stay still for long enough to appreciate the sound, then perhaps a pair of high-quality in-wall or bookshelf speakers are the way to go. You may get the deep bass you've been searching for with just a little subwoofer.
Sensitivity
The term "sensitivity" sometimes pops up in lists of speaker parameters, which is the maximum power per watt a speaker can provide. Speakers with sensitivity have to use more energy to achieve the same volume.
Design
If you care about the room's aesthetic appeal, you should select speakers that enhance rather than detract from the room's design. The good news is that it is not difficult to get speakers that are simply breathtaking and come in a variety of finishes that are suitable for use on furniture and will blend in perfectly with the design of your room.
Active vs. Passive Speakers
You have the option of selecting either active or passive speakers. Most speakers on the market are passive, meaning they get their power from an external amplifier and send it to their drivers via a crossover. Powered speakers require an external power source since they need to amplify the signal within the speaker box. Powered speakers use an internal amplifier but a passive crossover to transmit the signal to the speaker's drivers. Their amplifier individually powers the amplifier of active speakers.
Top 10 Bedroom Speakers on the Market
If you're looking for the greatest bedroom speakers, you've come to the correct place since we've researched them for you. Here's a list of the top 10 bedroom speakers on the market.
1. Bose Portable Smart Speaker
Overall Best Bedroom Speaker
Exceptional sound quality
Lightweight and portable Bluetooth speaker
360-degree sound
Supports Bluetooth and Wi-Fi
Outstanding bass for its size
IPX 4 rating
Supports Amazon Alexa and Google Assistant
The Bose Portable Smart Speaker has a distinctly tower-shaped form; the spherical base houses most speaker technology, while the flat rubber surface at the top houses all buttons. It includes an advanced array of microphones packed in, a stylish LED circle of light, and a flexible handle for carrying it about, therefore, having all the attributes of the overall best bedroom speaker on our list.
We found that the Bose Portable Smart Speaker is simple to set up. You can either connect through Bluetooth for limited functionality or connect over Wi-Fi with the Bose Music App for iOS or Android for full functionality. You'll be able to connect it to your various smart home devices and digital assistants like Amazon Alexa and Google Home. Only wireless listening is possible because there is no 3.5mm input.
As far as audio quality is concerned, you won't be able to shake the house down with the bass, but it's still nice, full, and comfortable even when you crank up the volume; that's great for a bedroom. The midrange and treble are well-balanced, the highs are crisp, and the lows are solid so that you can easily make out every word and note. And if you download the Bose Music app, you can tweak the bass and treble to your heart's content.
In conclusion, the Bose Portable Smart Speaker is a hit with consumers because of its high-quality sound, sleek appearance, and additional smart features that allow it to be a great bedroom speaker. But, of course, you won't find anything better than this sleek, portable gadget if you're looking for high-end capabilities and great sound quality on the go.
View on Amazon: Bose Portable Smart Speaker
2. Echo Dot (4th Gen) | Smart speaker With clock and Alexa
Best Smart Bedroom Speaker
Excellent audio quality
Has 3.5mm audio jack for connecting a wired speaker
Good microphones for capturing voice instructions
Compatible with all Alexa capabilities of other Echo devices
Low cost
Extremely easy setup process
Attractive and space-friendly design
Difficult to attach to a wall outlet with the new design
If you already have a lot of Alexa devices and want a reasonably priced smart speaker, the Echo (4th gen.) is an excellent option. You'll probably love this speaker's features and conveniences if your other smart home gadgets are compatible and you don't mind its new, orb-like shape. The LED ring at the bottom makes it obvious when the mic is on or off, and the sound quality is excellent.
When you link it to the Alexa app, you may do anything with it, including command compatible smart home devices and inquire about the weather. All you have to do is ask Alexa to play and manage your music from the speaker. There are built-in buttons on the speaker's top for playing if you prefer not to use Alexa. Additionally, there are two volume buttons, a mute button and an action button.
Echo Dot (4rth Gen) is perfect for compact spaces and can become surprisingly loud, and is enjoyable to listen to for music, audiobooks, podcasts, and engaging with Alexa. The Echo Dot sounds amazing, with the apparent exception of the bass response. The Echo Dot is passable as a music player, especially for older music that does not have a wide dynamic range.
In conclusion, Echo Dot (4th Gen) is a great option if you're looking for a voice assistant that works seamlessly with Amazon's ecosystem of products and services. It's also non-expensive, so you can stock up for usage in your bedroom without breaking the bank.
View on Amazon: Echo Dot (4th Gen)
3. JBL FLIP 5
Best Waterproof Bedroom Speaker
Well-balanced between sound quality and size
IPX7 waterproof
Engrossing, enjoyable audio
Excellent bass and timing
Simple to use
Affordable price
Fast Charging via USB-C
No auxiliary input or microphone
No integrated voice assistant
The JBL Flip 5 has a tough fabric cover that provides an IPX7 classification, which means it can withstand submerging water up to one meter deep. Tough rubber covers the exposed bass radiators on each end of the speaker. Owing to its features, we have chosen it as the best waterproof bedroom speaker on our list. It is also one of the best beach speakers on the market.
After a closer investigation, we saw that the Flip 5's rubberized spine has illuminating power and Bluetooth buttons, a play/pause button, volume controls, and a PartyBoost button. A light indicator also shows whether the Flip 5 is charging next to its lone connector.
The Flip 5 gives you a choice of 12 colors to choose from, and you may create your design also by paying a little extra. Moreover, the Flip 5 offers excellent bass for a speaker its size and extremely nice sound quality. The Flip 5 spreads the sound a bit broader and has greater bass than the Flip 4.
In conclusion, if you're in the market for a portable wireless speaker but don't have one yet, the JBL Flip 5 is a great option. It is a terrific alternative for everyone because of its strong waterproof fabric, good sound, respectable battery life, and compact size.
View on Amazon: JBL Flip 5
4. PreSonus Eris E3.5-3.5″ Near Field Studio Monitor (Pair)
Most Versatile Bedroom Speakers
Pure and balanced audio
Reasonable price
Extremely powerful woofer with excellent sound
Excellent range of inputs
Durable enough to withstand repeated use
Minimalist, compact, and lightweight design
The PreSonus Eris E3.5 is a small monitor with a 3.5-inch woven composite woofer to handle the low end. A 1-inch silk dome tweeter serves as the high-frequency driver. They are the most versatile bedroom speakers on our list as they provide quality audio in video games, home theater environments, and your bedroom. They operate everywhere because of their small design, smooth, precise frequency response, and robust construction.
At first glance, they instantly give off the impression of being the type of speakers you'd find in a professional studio or mixing room. The matte black finish exudes professionalism and beauty right away. Despite their small size, these speakers can nonetheless make a statement. The building seems strong and reliable, but when you connect them, you realize that they're a bit lighter than you had anticipated.
These speakers provide quality beyond anything you anticipate from such a portable, affordable option. The Presonus Eris E3.5 is a pleasure to listen to, and even with smaller woofer technology, they produce some outstanding low frequencies with a high degree of presence. Low levels also don't cancel out the other spectral bands, and powerful highs complement the clear, clean middle.
In conclusion, the PreSonus Eris E3.5-3.5″ Near Field Studio Monitor (Pair) has a gorgeous design and exceptional performance. It's amazing how much you get for the money when considering this excellent pair of versatile, high-performance monitors built to last.
View on Amazon: PreSonus Eris E3.5-3.5″ Near Field Studio Monitor (Pair)
5. Cyber Acoustics Bluetooth Speakers with LED Lights
Best Budget Bedroom Speakers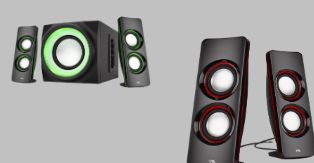 Very affordable
Nice and bright LEDs
Excellent stereo separation and clarity at higher frequencies
Independent volume, bass, and treble controls
Lightweight and portable speakers
No regular 3.5mm (1/8″) input – only RCA
Cyber Acoustics Bluetooth Speakers perform admirably for small desktop 2.1 speakers with just 36watts of power and a very attractive price point. These speakers won't blast the roof off or rattle your windows, but you shouldn't expect them to at this size and price. They are, however, unexpectedly louder than anticipated, with a crisp, clear sound and a bit more energy from the sub.
The setup process is really simple and easy. For example, we could easily connect our phone to Bluetooth, and the sound quality and lighting were satisfactory. Our team found that the lights were not blindingly bright but were not dull. Moreover, you may connect various devices, such as a PC, TV, smartphone, tablet, etc., using the supplied RCA(L/R) to a 3.5mm Y-Cable, which is also 5′. There are no connectivity or acoustic concerns when using Bluetooth.
The satellite speakers have two 2″ drivers in each of their glossy black plastic cases. Soft cushioning on the bottom of the speakers acts as both a vibration dampener and a surface-grip. These generate a loud volume for their small size and power while keeping clear mids and highs. The RGB lights illuminate the 5 drivers and the rims of each satellite speaker.
In conclusion, the Cyber Acoustics Bluetooth Speakers are an excellent affordable option as a bedroom speaker as it has a crystal clear sound quality, and you can turn the volume up quite high. Connection to Bluetooth is a breeze, and the sound and lighting are both satisfactory. The only minor gripe is that connecting the speaker to the PC is short.
View on Amazon: Cyber Acoustics Bluetooth Speakers
6. Klipsch RP-600M Reference Premiere Bookshelf Speakers – Pair
Best Bookshelf Speakers for Bedroom
Beautiful, stylish design
Excellent sound balance
Superb build quality
Outstanding soundstage and imaging
A lively, detailed sound that blends well with all genres
Bass is a bit muddy and uncontrolled
The Klipsch RP-600M is a two-way passive bass reflex bookshelf speaker. These speakers produce perfectly fine surround sound and unexpectedly good stereo performance when used with a subwoofer, so we have chosen them as the best bookshelf speakers for bedrooms on our list.
The RPs are small-to-moderately-sized ported box loudspeakers that exhibit above-average design and engineering. The magnetic grilles are properly in place, and it is clear that the speakers have been voiced specifically for usage with the grilles connected. The tweeters may sound a little too bright without them.
They have a 1-inch (28mm) titanium tweeter set on a Tractrix horn, a characteristic unique to Klipsch speakers. The tweeter's output is substantially improved since the horn makes it possible to tap the acoustic power of the tweeter much more effectively. Additionally, it comes with a cerametallic woofer measuring 6.5 inches in diameter. Those woofers made of spun copper are cool.
In conclusion, with proper setup and matched equipment, the Klipsch RP-600M Reference Premiere Bookshelf Speakers can perform well as home theater speakers and even surpass average stereo speakers. The Tractrix horn tweeter gives you all the benefits of a typical horn without the hunkiness, and the bass output is respectable for a box of this size.
View on Amazon: Klipsch RP-600M Reference Premiere Bookshelf Speakers
7. Bose Smart Soundbar 300 Bluetooth Connectivity with Alexa Voice Control Built-In
Best Soundbar for Bedroom
Exceptionally streamlined
Appealing color and shape
Compatible with Alexa or Google
Responsive
Compatible with Bose wireless speakers
Sound quality is exceptional
No ARC HDMI cable
Set up is time-consuming
Bose Smart Soundbar 300 is gorgeous right out of the box. Its small size means it won't block the bottom of your screen, and you might even be able to slide it under your TV's legs if they're narrow enough. Moreover, its minimalist design, lack of outside buttons, and wraparound metal grille make it a great fit for almost any bedroom.
On closer inspection, we found that despite being constructed of metal and plastic, the soundbar has excellent construction. Metal grilles cover the top and bottom of the soundbar to protect it from dust and insects while also improving its aesthetic.
The Smart Soundbar 300 is a whole-home audio system that can be attached to existing Bose wireless speakers and serve as a TV speaker—because of this, utilizing its non-TV capabilities and configuring it both require the Bose Music app. The EQ of the speaker is pleasingly neutral, offering a wonderful mix of frequencies that sound good with a range of music styles and TV shows. In addition, you can significantly boost the bass response using the Music app.
In conclusion, the Bose Smart Soundbar 300 is a great option for listening to music and watching movies in little to medium-sized bedrooms due to its powerful sound and cutting-edge innovative functions. The Bose SimpleSync function is fantastic when you want to play music but don't want to bother anybody else.
View on Amazon: Bose Smart Soundbar 300
8. Acoustic Audio AA5102 Bluetooth Powered 5.1 Speaker System Home Theater Surround
Best Surround Sound Speaker System for Bedroom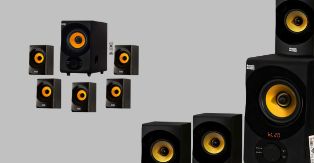 Easy to setup
Great remote functionality
Good value for money
Amazing sound quality
Reliable Bluetooth compatibility
We did not experience any issues with these speakers
The Acoustic Audio AA5102 Speaker System is the best surround sound speaker system for the bedroom on our list as it sounds wonderful. Although it won't blow your ears off or rattle windows, it provides excellent sound quality and loudness for the price of a bedroom or a small game room.
The Acoustic Audio AA5102 has an excellent bass response and a clear, crisp treble, making it simple to understand the dialogue. The proportions are spot on. Also, the fact that you can control the subwoofer level independently of the other speakers and the loudness is fantastic. You'll get a ton of low-end with this system, and the sound quality is surprisingly good for the price.
This 800-watt, the 6-piece system has a modern design and is a beautiful addition to any bedroom. For better low-frequency response, it has a digitally adjusted hardwood casing. This speaker system comes with mounting gear, and the full-range satellite speakers have a magnetic shield for usage near TVs and computer monitors.
In conclusion, the Acoustic Audio AA5102 Speaker System has superb sound quality, with a bass-controlling remote for convenience. It can easily connect to other Bluetooth devices and requires little setup time. Overall, it's a decent surround sound speaker system for a bedroom.
View on Amazon: Acoustic Audio AA5102 Bluetooth Powered 5.1 Speaker System Home Theater Surround
9. Pyle Pair 6.5″ PDIC1661RD
Best In-Ceiling Speakers for Bedroom
Excellent value for the money
Easy to install
Bluetooth compatibility
Awesome sound quality
Sturdy and strong
The Pyle PDIC1661RD Speakers are about as inexpensive as you can get while still obtaining a good ceiling speaker, and you can install them on a wall or a ceiling. They are a pair of 6.5-inch speakers, and while you won't get extras like magnetic grilles or more powerful sound from more costly speakers, they will serve as the best in-ceiling speakers for your bedroom.
We found that they come as a pair of 6.5-inch speakers and make a terrific choice for the kitchen and other rooms in the house. The Pyle In-Wall/Ceiling Speakers provide stereo sound in every area of your house or place of business. Each speaker comes with a high compliance polymer tweeter that delivers a rich, full sound without taking up unnecessary floor area.
The fact that these speakers are sturdy and rather hefty is a positive thing. You can install them directly to the drywall so the ceiling reverberates to improve bass response. They deliver remarkable highs, and equalization can raise lows. The installation process is very simple.
In conclusion, the Pyle PDIC1661RD Speakers' sound quality is excellent, giving crystal-clear audio. You can transform your bedroom into a theater by installing them and can enjoy movies with great audio quality. They are easy to install, have excellent sound quality, and are easy to program to any device through Bluetooth.
View on Amazon: Pyle Pair 6.5″ PDIC1661RD
10. KPR Night Light Bluetooth Speaker
Coolest Speaker for Bedroom
Colorful Bluetooth speaker
Has a night light and a built-in mic
Versatility
3 level brightness
Easy to use
360° immersive sound
We did not experience any issues with this speaker
The KPR Night Light Bluetooth Speaker is a beautiful speaker. Its ideal size and weight make it very portable to carry along. It's quite neat that the lights can adapt their hue to the music you're listening to. This portable speaker is perfect for late-night music fans who don't want to wake up the neighbors.
We found the nightlight feature wonderful; the colors are vibrant, and you can switch the color to white for use as a bedside lamp. In addition, Bluetooth connectivity is a breeze; even kids can figure out the operation easily.
Our team was completely satisfied with the features it offers. Connecting to any Bluetooth-enabled device is simple. Its sound is crystal clear and doesn't crackle. You can change the color with the swipe of a finger. You may pick from seven color modes, including a constant burn in one hue, a steady burn in six different colors, and a flashing between all six colors. The battery life is incredible, and a full charge just takes a couple of hours.
In conclusion, even if the KPR Night Light Bluetooth Speaker' sound quality isn't great, it's far better than what you would get at this price point as long as you don't play your music at maximum volume. Furthermore, you would like how the colors vary with the music and the environment, and it works admirably for the price and has long battery life.
View on Amazon: KPR Night Light Bluetooth Speaker
Frequently Asked Questions About Bedroom Speakers
Where to put speakers in bedroom?
Unless the bedroom is huge, two in-ceiling or bookshelf speakers will provide adequate sound. In most cases, installing the speakers in the ceiling a few feet before the bed and positioning one speaker on each side is ideal.
What size speakers are suitable for bedroom?
n terms of the size of the room to the size of the speakers, this sets the rule of thumb at 1:0.5. In simple terms, that implies if you have a space that is 12 inches, the most size or height your speakers should have be is 6 inches.
How to place surround sound speakers in a bedroom?
The room's surround speakers should be higher than the front channels. The ideal height is between 1 and 2 feet above head level when seated. The purpose of the surround channels is to provide an ambient sound in the room where you are listening. Therefore, it will be advantageous to position a little away from your ears.
How many in-ceiling speakers do you need in master bedroom?
You need to consider two things when it comes to the bedroom: the location of the bed and whether or not there is a television in the space. In most cases, two speakers installed in the ceiling are more than adequate for a bedroom unless the room is large.
Where to install in-ceiling speakers in bedroom?
For the optimum stereo separation effect, place the ceiling speakers along the room's length, 2 meters apart and at equal distances from the walls.
Final Words
You now have all the information you need. We hope this buying guide will help you search for bedroom speakers. We recommend you go for Bose Portable Smart Speaker because it has everything you can ask for in a bedroom speaker.
Everyone has various needs; therefore, it doesn't matter if you want a portable speaker to watch movies in bed or a speaker to put on your bedside and listen to music from your phone before going to sleep. Everyone can find anything that suits their needs on the market.