Are you considering purchasing one of the best beach speakers for jamming out on the beach? Cool idea. Gone are the days when people had to bring all of their music equipment, including wires, to the beach to listen to music and chill out. Fortunately, this is no longer the case. All we need now is a Bluetooth speaker to carry our music with us wherever we go.
Outdoor Bluetooth speakers are perfect for the beach, but they may also be used indoors in the shower or near the pool to play music. They are more costly than their wired alternatives, but Bluetooth devices are more convenient and mobile. Bluetooth devices have grown in popularity in recent years and continue to improve functionality and robustness.
This article will help you choose the best Bluetooth speaker for the beach and outdoors. We sifted through the countless options and selected the top 10 Bluetooth speakers that provide an excellent combination of sound quality, features, and affordability. First, let us tell you what features a good beach speaker should possess.
Roundup of the Best Beach Speakers
What Is a Good Beach Speaker?
Waterproofness, durability, and the battery's capacity are essential factors that a good beach speaker must-have. Moreover, if your new beach speaker is going to be on display, it has to look and sound the part. Color is another factor to keep in mind.
A good beach speaker must be loud, wireless, and portable to go on excursions with you easily and rugged and as loud as possible for everyone in your company to enjoy the music. People considering purchasing one of these are likely to seek a straightforward design that allows them to plug in and play music, focusing on other activities rather than worrying about the music.
Things to Consider When Looking for the Best Beach Speaker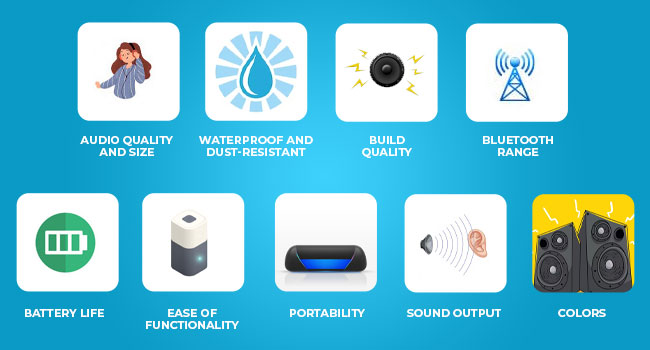 Hanging out by the pool, at the lake, or on the beach just isn't the same without your favorite song playing in the background, and we want that you must enjoy your beach time. But, before we get into our recommendations, let's talk about the qualities you'll want to think about before settling on the best speaker for you.
Audio Quality and Size
People frequently view the size of a speaker and the quality of its sound as being connected. However, this is not necessarily the case. Numerous small-sized beach speakers deliver studio-quality sound. A larger size is typically associated with louder sound.
Choosing the appropriate size for a beach speaker is determined by how much weight and mass you are ready to bear. Some small-sized beach speakers strike an excellent mix between portability, sound quality, and volume, while others fall between. Although the audio quality is difficult to quantify since it is primarily a subjective topic, speakers from well-known and renowned manufacturers provide outstanding sound quality. Therefore, you need to assess which sound quality you will prefer carefully.
Waterproof and Dust-Resistant
If you want to take your speakers to the beach, you'll like them to be waterproof and dust-resistant, and the best way to find out is to check the IPX ratings. You can also consider water-resistant speakers if you want to have a poolside party.
The IPX rating system indicates the level of protection provided by the speaker against environmental factors; for example, some speakers are splash-resistant, while others can withstand complete submersion in water.
Build Quality
Another factor that influences durability of speakers is build quality, and a beach speaker should be able to withstand considerable punishment before eventually succumbing to wear and tear. Polycarbonate materials are more rigid and durable than conventional plastic and have a longer lifespan. Most manufacturers give information on the materials used in construction, but if they don't, you should be able to discover it simply on the internet. As you will spend a significant amount buying beach speakers, you will have to ensure that they last long.
Bluetooth Range
The majority of beach speakers have a standard Bluetooth range of 30-50 feet. However, some manufacturers go the extra mile to improve the range by putting additional antennae on the speaker. A thorough look at the product specifications will provide further information about the covered Bluetooth range. A good Bluetooth range is essential for having a big party on the beach, and you must not ignore this facet.
Battery Life
Another critical thing to consider is battery life, which impacts how long you can listen to music when unplugged. A larger battery typically entails a larger size and weight, so if you can locate a power outlet now and then, there's little need in spending more and lugging extra mass when most speakers can last for roughly 10 hours.
Ease of Functionality
The more the control functionality of a beach speaker, the better. In other words, the speaker you pick must allow you to control music playing, answer calls, utilize Siri and provide basic volume control.
Portability
Beach speakers must be small and lightweight enough to allow you to carry them about in your backpack with reasonable ease and without strain.
Sound Output
If you want your speaker to be heard clearly at the beach or noisy gatherings, you'll want to invest in a speaker with a higher wattage rating. If you're searching for anything tiny enough to slip into your pocket or bag for your listening, a low-wattage device with smaller woofers or speakers will suffice.
Colors
Who will not like that the gadget they buy comes in their favorite color? It has nothing to do with functionality but everything to do with aesthetics. So if you go to the beach with your friends, where you will have a large audience, it's not wrong to attract attention by flaunting your new boom box.
You may get even more bang for your buck with beach speakers that enable NFC, have an analog input connection, or even charge using a regular micro-USB cable! So, look out for these features as well when making a purchase.
The most incredible beach speakers are listed below for individuals who are water babies and love to party at the beach.
Top 10 Waterproof Speakers, Bluetooth Speakers, and More for the Beach
To help you choose the finest speakers for the beach, we've compiled a list of the most popular models worldwide. So let's get this party started!
1. ULTIMATE EARS WONDERBOOM 2
Most Waterproof Speakers for the Beach
Long battery life
Heavy bass
Outdoor audio mode
Stereo pairing function
IP67 water- and dust-resistance
Portable and can float
Can connect two devices at once
No microphone
Distortion with an increase in volume
Micro USB charging
The 4-inch Wonderboom 2 now has IP67 water and dust protection, making it the most waterproof Bluetooth speaker on the market. It boasts a 13-hour battery life (three more than previously), a 100-foot Bluetooth range, floats, and blasts out shockingly powerful audio. What more can you wish?
You can hear a lot of detail and a good sense of attack in the bass, which is impressive for its small size. There's also an on/off button located on the bottom of the device. Pressing it inhibits bass-frequency sound to make it easier for the UE to play louder in the midrange, making it easier to hear when you use it outside.
The new model not only has an IPX7 water-resistant rating, but it is also dust-resistant. A 30 percent improvement in battery life, improved bass performance, and a new Outdoor Boost mode that allows the speaker to be even louder than the Wonderboom original are just some of the many new features.
In conclusion, if you're looking for the most robust, portable waterproof Bluetooth speakers on the market, go for Wonderboom 2. In addition to its capability to float, the new looping mechanism is a fantastic feature, making it highly portable.
View on Amazon: ULTIMATE EARS WONDERBOOM 2
2. JBL Boombox 2
Beach Speaker With the Most Powerful Sound
Battery that lasts for 24 hours
Well-balanced, great sound quality
Allows for the pairing of several devices
Easily portable
Can play contents from a stereo
Somewhat narrow soundstage
Does not support smartphone charging
Lacks an EQ
The JBL Boombox 2 is a mid-sized speaker designed to be placed horizontally on a table. Almost all of it is covered in a tight fabric, supported by a plastic foundation. Its big plastic handle features a grip pad on the top to make carrying it more comfortable. It includes LEDs that display the battery level and whether or not it is Bluetooth-enabled. It is also available in two color options: 'Black' and 'Camo.'
It has a very neutral sound profile, making it suitable for playing various audio formats. A well-balanced mid and treble range allows voices and lead instruments to be heard effectively. There's a little additional boom in the high-bass, but low-bass production is lacking.
The Bluetooth connectivity on the JBL Boombox 2 is first-rate. If you regularly alternate between listening to music on your phone and your laptop, the ability to connect two devices simultaneously is a handy feature. When using an iOS or Android smartphone, the low latency is ideal for watching videos.
In conclusion, if you're planning an outdoor party on the beach or a camping trip and prefer sound quality to be immaculate, JBL Boombox 2 is the speaker. But, despite having a narrow focus, it provides a lot of sound for the money.
View on Amazon: JBL Boombox 2
3. New Bose SoundLink Flex
Most Durable Speaker for the Beach
For its small size, it produces a lot of sound
Its inbuilt loop allows you to prop it up horizontally, set flat, or hang vertically
Waterproof and dust-proof (and floats)
Battery life of up to 12 hours
Comprises speakerphone
No audio input
Silicone coating on the back collects dust and fuzz
Bluetooth 4.2 is used instead of Bluetooth 5.1
The NewSoundLink Flex is 7.9 inches wide, 3.6 inches high, and 2.1 inches deep, weighs a little over one pound, and features a utility loop connecting to a carabiner. Black, smoke white, and blue are the three colors available in the product.
IP67 dust and water-resistant rating and 12-hour battery life go hand in hand with the Soundlink Flex's ruggedized design and "astonishing" audio performance given its tiny size. Bose's "PositionIQ" technology enables the speaker to adjust its audio output according to its position (upright, hanging, or flat on its back).
You can connect it to any Bose smart speakers or soundbars at home. You may also use it in stereo mode with another SoundLink Flex or another Bose portable speaker. There's also a built-in microphone for accepting calls and communicating with your phone's voice assistant.
In conclusion, New Bose SoundLink Flex should be at the top of your list if you seek portable Bluetooth speakers that you can take anywhere due to its excellent bass and portability.
View on Amazon: New Bose SoundLink Flex
4. JBL Flip 5
Best Portable Beach Speaker
Waterproof to IPX7 standards
Portable and lightweight
Good sound quality
USB-C charging
Impressive battery life
Affordable price
Available in 14 different colors
No Bluetooth 5 or high-quality codecs
3.5mm input not available
No microphone for hands-free calling
The Flip series began as splashproof and progressed to being entirely waterproof—as is currently the case with the new JBL Flip 5. It's encased in a tough fabric that gives it an IPX7 grade, which means it can withstand being immersed in up to three feet of water. A strong rubber on either end of the speaker protects the exposed bass radiators.
With an approximately 540-gram weight and a cylindrical form factor, the Flip 5 is a lightweight option. This speaker would fit perfectly in your backpack's water bottle compartment. You have the normal playing controls, such as volume up and volume down buttons denoted by plus and minus signs. Then there's the play/pause button, which, when double-tapped, allows you to pause music or go to the next song.
The JBL Flip 5's bass response is noticeably better than the Flip 4's, but it's still not going to be the best thing you've ever heard. It might not be easy to distinguish the de-emphasized midrange notes during compelling bass lines.
In conclusion, if you don't already own Bluetooth speakers and want to buy portable speakers for your next beach party, the JBL Flip 5 can be an excellent choice. We absolutely loved the "portability" factor of this speaker.
View on Amazon: JBL Flip 5
5. Sonos Move
Best Beach Speaker With Voice Control
IP56 certification; weather-proof
Dependable connection
Excellent sound quality
Extremely user-friendly Sonos app
Bluetooth and Wi-Fi compatibility
Microphones operate nicely, and you can turn them off
Compatibility with Google Assistant and Amazon Alexa
Durable and easy-to-use charging cradle
Only AAC and SBC are supported; no aptX
Handle is not ergonomic
Somewhat bulky
The Sonos Move is the company's first attempt at creating a Bluetooth speaker. We examined the build quality and found that the grille wraps around the whole speaker make up most of the speaker. However, the top, bottom, and rear are all composed of plastic, making them somewhat bulky. The bottom of the speaker uses rubberized plastic, which is excellent because it doesn't scratch easily and adds extra grip. Moreover, it is weather and shockproof, with an IP56 rating.
This Sonos speaker also has top-mounted touch-sensitive controls that you will find no trouble operating. You'll find the power and connect buttons and a tiny button to choose between Wi-Fi and Bluetooth, so that's relatively easy peasy. Moreover, you can keep it on a charging stand that comes with it when not in use.
Whether adding this speaker to an existing ecosystem or beginning from scratch with the Move, you will find that Sonos works best when connecting to the internet. You will find the range more exceptional than that of Bluetooth, and the speaker does not need to rely on your source device to provide audio. As an alternative, it downloads the audio directly from the internet. You will, however, require the Sonos app to take advantage of this feature.
In conclusion, although its sound quality is great, it is not the most portable speaker you can lug around to the beach as it's pretty heavy, and the handle is also not designed to keep portability in mind. So, you need to choose your options carefully. Sonos Move is the one of the best waterproof speakers on the market.
View on Amazon: Sonos Move
6. OontZ Angle 3 Bluetooth Portable Speaker
Best Budget Beach Speaker
Design that is one-of-a-kind and eye-catching
Reasonable price
IPX5 rain protection rating
Sounds decent at mid-level volumes
Simple enough to operate
Auxiliary connections possible
Comes with a mic
Feature set is minimal
There is no app or smart assistant
High audio delay
There is no multi-device pairing
With its triangular shape, OontZ Angle 3 stands out from the crowd. You can easily carry it around because it doesn't take up too much room. You may hang it horizontally or vertically, and it comes in a variety of colors, so you can find one that suits your decor.
We found the construction adequate. It's constructed of plastic, yet it feels solid in hand. A metal grille shields the drivers, and a rubberized covering protects the buttons. The USB-C and AUX connectors are likewise protected by a rubber covering. So, well-covered and well-protected.
We found the controls on this speaker excellent. The speaker's buttons are located on the triangle side, although you may find pressing the power button difficult. Holding the volume buttons down for two seconds lets you skip forward and backward through the tracks. All sums to a convenient operation.
The OontZ speaker has a reasonable loudness and excellent sound for a modest price, but "good" is about as far as we can define it. So, to all the audiophiles, sorry.
In conclusion, the OontZ speaker is a beautiful buy for someone who doesn't have much money. You're covered if you're searching for anything that will fit neatly into the water bottle holder on your backpack and you don't have great expectations.
View on Amazon: OontZ Angle 3 Bluetooth Portable Speaker
7. JBL Charge 4
Beach Speaker With Best Battery Life
Quality audio performance with rich bass
Long battery life
USB C Charging feature available
Waterproof
Can be used to charge portable gadgets
Sufficiently loud
Excellent construction
Several color options
Difficult to identify the buttons that are not illuminated in the dark
Essentially the same as the Charge 3
New model is somewhat larger and heavier than the old model
Mid-range vocals can be hidden by bass
Charge 4's excellent construction is proof of JBL's dedication to quality. The waterproof fabric of the Charge 4 and IPX7 certification allows you to submerge it in a meter of water for up to 30 minutes, making it one of the best waterproof speakers on the market. You don't have to worry about losing it if you drop it in the water since it floats for a while. However, you might find it challenging to carry around because the Charge 4 is bigger in every dimension by roughly a centimeter but 165 grams heavier (7.05 ounces).
If you're a music lover, this speaker from JBL has many exciting features, making it a must-have. You can connect it wirelessly to two smartphones or tablets and enjoy tremendous sound simultaneously. Moreover, you can charge your smartphone via the speaker's USB connection or use the included rechargeable Lithium-ion Polymer 7800 mAH battery for up to 20 hours of continuous playback.
As per our tests, the JBL Charge 4 has a comparable sound characteristic and quality to the JBL Charge 3. We were disappointed as the bass tends to lose strength over distance faster than higher-pitched sounds. Thus this model will sound better if you are in a large room or any open place like the beach. In addition, you will have a more pleasant listening experience in a barn or garage because Charge 4 will reduce the bass emphasis.
In conclusion, the JBL Charge 4 is one of the best waterproof speakers with excellent battery life. Even though it is pretty similar to JBL Charge 3, it's battery is definitely a plus.
View on Amazon: JBL Charge 4
8. Bose SoundLink Micro
Best Beach Speaker for Smartphones and Tablets
Waterproof
Speakerphone feature included
Very loud
Comes with an add-on strap
Can connect to multi Bose-devices
Micro-USB charging
Average battery backup
We found Bose SoundLink Micro to be a revolutionary piece of technology in various ways. Bose's most affordable Bluetooth speaker is also its first entirely waterproof and durable product geared at active consumers.
With an IPX7 water resistance rating, robust housing made of rubber, a compact frame, and a tear-resistant silicone strap – the SoundLink Micro ticks all the appropriate boxes and makes it a go-anywhere Bluetooth speaker for you.
Do you want durability? Bose SoundLink has got you covered with its excellent micro construction and robust feel, which gives it the ability to withstand years of misuse. You will be able to efficiently operate it because the power, Bluetooth, play/pause, and volume buttons are all large and well-designed on the device's top and sides.
The micro-USB connector for charging is the one weakness in the armor, and it feels out of place in a world where USB-C is quickly becoming the standard.
The Bose SoundLink Micro delivers impressive sound quality for such a small speaker, crisp, clear, and detailed sound. We got mids and highs that were expressive and detailed, yet they never become overly harsh. Although the lows are crisp and powerful, bass enthusiasts will be disappointed.
In conclusion, the SoundLink Micro is a good choice if mobility, robustness, and waterproofing are crucial to you. However, there are few speakers this compact that sound as amazing as this one.
View on Amazon: Bose SoundLink Micro
9. JBL Xtreme Portable Wireless Bluetooth Speaker
Beach Speaker With Best Bass
Quality sound
Excellent bass
Shoulder strap included
Highly portable
Splashproof fabric
Somewhat expensive
Speakerphone function not included
Highs can be a little harsh
You can connect JBL Xtreme with the shoulder strap using the two metal hooks on either end, and you've got portable party power. So if you're going to strap the speaker to your back a lot, this is an important consideration.
A splashproof fabric encases the JBL Xtreme, which adds a lovely touch, but we doubt you'll be holding it most of the time because it's simply too large.
To produce strong bass notes, the JBL Xtreme employs two passive radiators. One thing that irritated us about the Xtreme is a slight stutter at the beginning of a song. It lasts a second, yet it's enough to spoil more intros than expected. Aside from that, we found that Xtreme performs admirably as planned. The JBL Connect button, which allows you to connect and sync numerous JBL speakers, is another excellent feature.
JBL placed a massive 10,000mAH battery inside the Xtreme, giving it a battery life of close to 14 hours, which is impressive given how loud this monster can become when you crank up the volume at your beach party. It will fulfill your purpose of purchasing a massive Bluetooth speaker.
In conclusion, if you are looking for a portable speaker with a solid bass response and the convenience of Bluetooth wireless connectivity, the JBL Xtreme Portable Wireless Bluetooth Speaker is for you.
View on Amazon: JBL Xtreme Portable Wireless Bluetooth Speaker
10. Anker Soundcore Flare 2
Best Speaker for Beach Parties
Speakerphone functionality is available
Long battery backup that lasts up to 12 hours
Comes with 2 LED Light Rings
For the size and price, the audio is relatively decent
Waterproof grade is IPX7
3.5mm aux jack not there
Does not display battery charge level on the speaker
Mild distortion in sound at higher volume
Speakers need to be re-connected with PartyCast every time you turn them on
Despite the Anker Soundcore Flare 2 moving a few buttons, you can still manage music playing, volume, calls, pairing, and BassUp on the speaker itself. Furthermore, you may get more lighting and EQ options via Anker's mobile app.
The speaker uses rubber to line the bottom of the speaker's base so that you can be assured that it won't slide during playback due to vibrations. You will find it eye-catching as colorful LED light strips line the top and bottom panels of this black SoundCore Flare 2, which is approximately 6.4 inches by 3.5 inches (HW).
There is no need for you to worry about the weather or the place as SoundCore Flare 2 has an IPX7 rating. The speaker can endure water pressure or be immersed up to one meter to tolerate rain or poolside splashes easily. Just make sure the USB-C charging port lid is tightly closed before plugging it in.
The sound quality is excellent, with a good balance of frequencies. You will enjoy low to medium level listening to the Anker's gently warm sound. Even though the Anker Soundcore Flare 2 is a powerful speaker, the sound quality degrades as you increase the volume.
In conclusion, Anker Soundcore Flare 2 is the best budget Bluetooth speaker. If you're looking for a light display that matches the music you're listening to, this is the best option for a portable Bluetooth speaker that you can take to the beach and jam on.
View on Amazon: Anker Soundcore Flare 2
Frequently Asked Questions About Beach Speakers
Can you use Bluetooth speakers at the beach?
Yes, of course. They are the most ideal. A portable Bluetooth speaker is a terrific option if you want to take your music on your next beach vacation. If you have a Bluetooth-enabled phone or tablet, these speakers can play music from it.
What is the best waterproof Bluetooth speaker on the market?
The best waterproof Bluetooth speaker is the one that has an IP67 rating. ULTIMATE EARS WONDERBOOM 2 has this certification, making it extremely waterproof, dust-proof, and designed to produce a splash. It can be your floatable pool companion, shower companion, and summer soundtrack as it produces waves of wonderful music even when you're in waist-deep water.
Which JBL waterproof speaker is best?
The JBL Flip 6 is the greatest waterproof speaker on the market. The JBL Flip 6 combines mobility and sound quality in a tall, slim design. You won't have to worry if you drop your speaker in a puddle or a pond. It has an IP67 rating. It boasts a 12-hour battery life and charges through USB-C when it comes time to charge.
Final Words
Taking your music and multimedia information with you everywhere you go is made possible by portable wireless speakers, and selecting the finest beach speaker is determined mainly by your unique preferences. Although all of our recommendations are top-notch, if you ask us to choose one, we would like to go with ULTIMATE EARS WONDERBOOM2 as it is feature-rich and produces excellent quality sound needed for your next beach jam party.
Keep rocking!