We "audiophiles" may argue about distortion, sound quality, and noise cancelation in headphones, but sometimes we want to crank the tunes as loud as we can!
If you are looking for the loudest headphones, you've come to the right place. In this detailed guide, we'll help you determine how to find the loudest headphones, list the top loudest headphones on the market per our evaluation and answer some common questions about loud headphones.
The decibel rating and noise-cancelation are the two most crucial aspects when shopping for a pair of very loud headphones. There are a lot of terrains to cover, so let's get going.
Roundup of the Loudest Headphones
How Do I Choose the Loudest Headphones?
You need to check the following specifications of headphones when looking for the loudest headphones.
Sensitivity (Loudness)
Specification sheets for headphones use either the word "sensitivity" or "sound pressure level" (SPL) to describe the
loudness of headphones. The sensitivity of a set of headphones is the measurement of how loud they will play at a given input power. At a given power level of one milliwatt, if headphone A has a greater sensitivity rating than headphone B, the sound produced by A will be louder than that produced by B.
It is measured in decibels (dB), and in our opinion, headphones are loud if they have a sensitivity of 100 dB or above.
Drivers
One of the most critical elements of headphones is the driver. It produces sound by converting an electrical signal into sound pressure. The driver dimension on a headphones data sheet represents the diaphragm's diameter in millimeters. The bigger the driver, the better the sound, particularly the bass performance.
Many in-ear headphones use two drivers since a huge driver cannot fit inside an in-ear device. There are two drivers, one for the bass and the other for the mid- and high-range frequencies, rather than a single driver covering the whole frequency range.
Over-the-Ear Headphones vs. On-Ear Headphones
Headphones that wrap around the ear are called over-ear or circumaural. Their increased size allows for a bigger driver, resulting in a higher loudness and enhanced bass performance. Additionally, the driver is positioned farther from the ear, giving a more expansive sound similar to that of speakers. They aren't very portable though.
Supra-aural headphones, often known as on-ear headphones, sit on top of the ear. They deliver music directly into the ear canal like in-ear headphones, but they don't block out outside disturbances and may also transmit sound to those sitting close. On-ear headphones are a nice compromise option since they provide decent mobility and outstanding sound quality (in higher end sets).
Open-Back vs. Closed-Back Headphones
You may also see the terms "open back" or "closed back" used to describe headphones, particularly over-ear models. This refers to whether the earcups' backs are sealed or open.
Better noise cancellation is provided by "closed back" headphones, which also have a stronger sound that is comparable to that of in-ear headphones. Audiophiles often praise "open back" headphones as having a more natural loud sound, despite having higher sound leakage and letting in more background noise.
Top 14 Loudest Headphones on the Market
If you're looking for a pair of headphones that will give you the loudest sound, here are 14 stellar options!
1. Sony WH-1000XM5
Loudest Headphones for Music
Have a sound profile that is very detailed, with deep bass notes
Exceptional battery life
Sleek and beautiful design
Easy-to-use and intuitive sensor controls
Substantial ear cushions for a snug fit
Max Volume: 105 dB
Expensive
No Bluetooth aptX support
Sony is well-known for its impressive reputation in the audio equipment industry. The Sony WH-1000XM5 headphones are among the finest and loudest headphones on the market, and their audio components are top-notch and offer excellent noise cancelation.
We evaluated and found that the artificial intelligence used in these headphones ensures excellent audio quality even when the device is not actively processing sound. As a result, you'll love the sound quality and clarity delivered by these headphones.
When fully charged, the battery can power your device for up to 30 hours of gameplay. A full charge takes around 10 minutes to achieve should the battery die. These Sony WH-1000MX5 headphones may reach up to 100 dB when used wirelessly. In wired mode, however, they can reach 102 dB.
The over-the-ear shape aids in blocking out ambient sound. The shape prevents noise leakage, so the sound quality of whatever you're listening to remains intact.
In conclusion, Sony WH-1000XM5 is the company's most recent noise-canceling headphones and among the loudest models available. These headphones can be a great buy if you want to listen to your music louder without compromising the sound quality.
View on Amazon: Sony WH-1000XM5
2. Marshall Major IV On-Ear Bluetooth Headphones
Loudest Headphones With Bass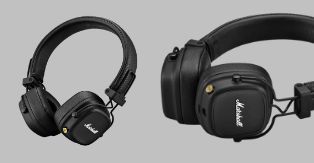 Almost 80 hours of battery life
Studio-grade audio
Cool, retro design
Bright and bass-forward audio performance
Easy-to-use on-ear controls
Convenient wireless charging
Max Volume: 93.1 dB
Can be difficult to balance on wireless charging pads correctly
No carrying case
Sound signature may not be suitable for individuals who want precision
The Marshall Major IV On-Ear Bluetooth Headphones are a nice addition to the dwindling selection of audio-only wireless headphones. While they aren't for everyone, audio enthusiasts can't deny the powerful, bass-forward sound characteristic and user-friendly design these headphones provide.
The Major IV's on-ear, or supra-aural, cups are oblong and padded for maximum comfort. The padded bottom of the band and the imitation grain leather design on the outside make these headphones suitable for extended listening sessions.
The one-turn dial on the Major IV headphones is one of the best features of these headphones. . Pressing it once will play/pause the music, once will answer or stop a conversation, and pressing it twice will bring up the digital assistant on your smartphone. Long-pressing the knob regulates power and Bluetooth connection. We wish more headphones had this straightforward, easy-to-use control.
The higher-register brass, strings, and vocals are bright and clear, but the bass is enhanced so much that the lower-register instruments sometimes seem artificial. Although the Major IV's sound characteristic isn't going to win over purists, plenty of people will like the amplified and sculpted experience it provides for pop, rock, and most current mixes.
In conclusion, Marshall Major IV On-Ear Bluetooth Headphones have the greatest battery life and near-professional sound quality in their class. Moreover, having almost 80 hours of leisure at your disposal is unfathomable. Streaming music, especially modern music, via these cans will sound fantastic, at any volume you're looking for.
View on Amazon: Marshall Major IV On-Ear Bluetooth Headphones
3. Bose Noise Canceling Headphones 700
Loudest Headphones With Noise Cancelation
Smooth, appealing design
Outstanding noise cancelation for calls and music
Clear, well-balanced audio
Touch-sensitive buttons and controls
Good battery life
Max Volume: 112.7 dB
Durable and versatile
The Bose Noise Cancelling Headphones 700 are high-quality, effective headphones. The 700 uses Bose's proprietary NC chip, powering a new noise-canceling technology with state-of-the-art acoustics and digital signal processing. The eight-microphone system (six for noise cancellation and two for speech pick-up) offers 11 levels (0–10) of noise cancellation strength, enabling you to go from complete isolation to complete transparency easily. We really liked the volume levels offered by these headphones; they are pretty loud but will not harm your ears.
On evaluation, we found the 700s are unmistakably super stylish and come in either black or silver. The plastic earcups are split in the center by a headband made of strong stainless steel. The band's top and bottom are constructed of a soft-touch plastic that conceals some of Bose's unique foam.
When we tried them out, we were blown away by how light they were and how nicely the soft earcups fit around our ears to block out ambient noise while still making the headphones comfortable for extended periods. These headphones provide excellent sound quality, a lively, energetic tone, and a balanced soundstage.
In conclusion, the Bose Noise Cancelling Headphones 700 are an excellent option if you're in the market for a set of the loudest headphones with the best noise-canceling capabilities. They include cutting-edge noise-cancelling technology, making them perfect for use on loud planes and crowded subways.
View on Amazon: Bose Noise Canceling Headphones 700
4. Soundcore by Anker Life Q20+ Active Noise Canceling Headphones
Loudest Headphones on Budget
Affordable
Strong bass and efficient noise cancelation
Excellent battery life
In-app EQ
Max Volume: 95 dB
Lacks in mid- and vocal-range brightness
The SoundCore by Anker Life Q20+ Active Noise Canceling Headphones are excellent loud wireless headphones for individuals on a tight budget because of their low price relative to their high level of performance. While they don't set any new standards in their category, these headphones provide above-average sound quality, active noise cancelation, and comfort at an affordable price. Their volume levels are pretty decent.
Our assessment found that the Life Q20 has generous padding and enough ear room, unlike other low-priced versions, which only provide a comfortable fit for individuals with very small heads. The luxuriously thick cushioning and the synthetic leather upholstery are reminiscent of those seen in more expensive versions.
Overall, the sound produced by the Soundcore Life Q20 is pleasant, with the lowest frequencies being particularly well articulated. Despite the bass being given more attention, the vocals are still nice and easy on the ear, though a touch subdued. This setup is great for a wide variety of musical styles, and while using them, we often found ourselves bobbing our heads to the beat.
In conclusion, Soundcore by Anker Life Q20+ Active Noise Canceling Headphones are an excellent choice if you want the loudest headphones that give you the most bang for your buck.
View on Amazon: Soundcore by Anker Life Q20+ Active Noise Cancelling Headphones
5. Skullcandy Cassette Wireless Over-Ear Headphones
Loudest Over-Ear Headphones
Seamless connectivity
Durable metal construction
Great sound quality
Soft pads suitable for longer periods
Affordable price
Quick and easy operation
Snug and comfortable fit
Max Volume: 126 dB
The sound quality and volume levels of the Skullcandy Cassette Wireless Over-Ear Headphones are excellent, with a deep, undistorted bass and a clear, articulate treble. Long runtimes between charges are possible. They weigh very little and have excellent build quality.
Skullcandy Cassette Headphones are lightweight and comfortable, with smaller cups (they are on ears rather than over ears) than we would like, but they do not sweat the ears and are really comfortable to wear for long periods of time, thanks in part to a leather cushion on top of the headset.
You may notice that the headphones are thinner than, say, their crusher range, but that's fine; the headphones are not designed for true audiophiles and are instead intended as a backup or travel option.
The sound quality is excellent, and we personally noticed a more bass-heavy and deep tone from them. We experienced no latency issues while listening to standard Netflix and YouTube playlists, and the music experience was positive across all music genres and instruments. The Bluetooth range is good, and we were able to connect from at least 10 meters away without any problems. The battery life is great, and you can charge them quickly.
In conclusion, the Skullcandy Cassette Wireless Over-Ear Headphones are the loudest over-ear headphones on our list, as these headphones deliver a whopping 126 dB, which is enough to raise the dead. If you're looking for something affordable yet high-quality in sound, you won't go wrong with them.
View on Amazon: Skullcandy Cassette Wireless Over-Ear Headphones
6. Bose QuietComfort 35 II Wireless Bluetooth Headphones
Loudest Bluetooth Headphones
Superior active noise cancelation
Great audio quality
Design that is lightweight and comfortable
Adaptable controls
Google Assistant dedicated button
Max Volume: 112.7 dB
Bose QuietComfort 35 II Wireless Bluetooth Headphones have a sleek design. They are among the finest wireless Bluetooth headphones, with superior sound quality and effective noise cancellation. The 20-hour battery life is more than sufficient, and the integrated Google assistant brings Android users to a new level of capability.
If you've tried on a set of Bose headphones before and found them comfortable, we believe you'll also find the QuietComfort 35 II to be a good fit. It's generous cushioning allows it to fit comfortably over ears of varying sizes and gives a snug fit.
Regarding sound quality, the Bose QuietComfort 35 II is right up there. During our assessment, these headphones demonstrated the kind of fine quality that one would expect from premium audio gear. They also managed to generate a surprisingly deep and resonant bass, rounding off the sound well. These headphones excel with various musical genres, from bass-heavy techno to intricate jazz riffs to soothing acoustic numbers.
In conclusion, as far as premium noise-canceling headphones go, the Bose QuietComfort 35 II Wireless Bluetooth Headphones are priced in the middle. These headphones aren't a bargain, but they provide decent value if you're ready to spend more for a superior, loud sound. The Bose QuietComfort 35 II are state-of-the-art noise-canceling headphones with almost every feature one could desire in a portable, wireless music player.
View on Amazon: Bose QuietComfort 35 II Wireless Bluetooth Headphones
7. Skullcandy Crusher Evo Wireless Over-Ear Bluetooth Headphones
Loudest Headphones for iPhone
Superb sound
Adjustable sensible bass
App-based personalized sound
Simple on-ear controls
Extended battery life
Very reasonable cost
USB-C charging
Portable design
Max Volume: 100 dB
Little bass if sensory bass is disabled
Bulkier than other headphones on our list
AAC and SBC only; no aptX
The Crusher Evo, a high-end model, comes with various useful extras. These include custom bass tuning, fast charging, extended battery life, in-built Tile 'finding technology,' and more, and that's why they are our choice for the loudest headphones you can get for an iPhone.
The Skullcandy Crusher Evo headphones have top-tier technological specs, but they're also lightweight, comfy, and fold flat for convenient portability. The headphones' ear cups can be rotated 180 degrees, allowing you to wear them around your neck or store them in a more convenient position when you're not listening to music.
The Skullcandy Crusher Evo Headphones use Audiodo's audio personalization technology and the series' "signature" Crusher Bass sound. The Crusher Evo has an individualized sound profile for each ear, so you won't need to turn up the volume to hear the rumbling lows and soaring highs. Moreover, you may customize the audio to suit your needs with separate settings for your home and workplace.
In conclusion, the Skullcandy Crusher Evo Wireless Over-Ear Bluetooth Headphones provide excellent volume levels for iPhone users. If you don't need multipoint or fancy technological features like active noise cancelation, these headphones can be a good option.
View on Amazon: Skullcandy Crusher Evo Wireless Over-Ear Bluetooth Headphones
8. Beoplay H95 Premium Comfortable Wireless Active Noise Cancelling (ANC) Over-Ear Headphones
Loudest Headphones With Great Battery Life
Elegantly crafted
Superior audio quality
Excellent noise cancelation
Comfortable and durable
Max Volume: 101.5 dB
The Bang & Olufsen Beoplay H95 Premium Comfortable Wireless Active Noise Cancelling (ANC) Over-Ear Headphones, released in honor of the company's 95th birthday, are a set of high-end cans with a price tag to match. Their polished appearance is complemented by high-quality add-ons and an app that makes it simple to customize sound and active noise cancellation.
The aluminum frames and lambskin leather ear pads give these headphones a high-quality, long-lasting feel while also making them look and sound great. The matching hard-shelled case looks just as opulent, but you probably won't carry it about with you all the time because of its size.
The audio quality of Beoplay H95 is outstanding, with a spacious soundstage, great detail, and a warm, bassy tone that works well with any music. If the app's default sound isn't to your taste, you may easily adjust the EQ settings. Similar to the audio, the noise cancelation is highly customizable to your preferences and effectively blocks background noise.
In conclusion, Beoplay H95 Premium Comfortable Wireless Active Noise Cancelling (ANC) Over-Ear Headphones check all the premium, industry-leading audio quality criteria. The H95 screams luxury the second you pull them out of the sleek protective case that will protect them from scratches and dings.
View on Amazon: Beoplay H95 Premium Comfortable Wireless Active Noise Cancelling (ANC) Over-Ear Headphones
9. Sennheiser RS 175 RF Wireless Headphone System
Loudest Headphones for TV
Strong wireless sound production
Digital and analog inputs
Bass mode substantially boosts low-end and can be deactivated
Extended range (through walls)
Comfortable and snug fit
Solid build quality
Max Volume: 114 dB
Somewhat pricey compared to other models in the same range
Strictly for home use; not portable
The Sennheiser RS 175 RF Wireless Headphone System is a high-powered wireless headphones pair with a charging station and transmitter. It can take analog and digital audio inputs from your home theater's components. It's purely for home usage, employing its modulating transmitter instead of Bluetooth or any mobile-friendly protocol.
We assessed that the sleek and understated aesthetic of the all-black Sennheiser RS 175 is hard to ignore. While the well-cushioned over-ear earpads are pleasant to wear for extended listening sessions, the headband's padding—split in two to make room for the charging connection point—may become uncomfortable for some.
Sennheiser RS175 has a highly sculpted sound character, with clear highs and deep lows with the option to add extra bass if desired. The Surround setting is great for TV and movies. The RS 175 has a Bass mode (off/on) and a Surround mode (off/low/high) for adjusting the audio experience. Without Bass mode on, the RS 175 has a shrill, tinny sound. When you turn it on, the sound is vibrant and full.
In conclusion, Sennheiser's RS 175 RF Wireless Headphone System is built for home usage and excellent with a deep, rumbling bass and a wide dynamic range. It is simple to install and provides exceptional sound quality for viewing movies and listening to music. It comprises multiple volume levels for watching your favorite movies and TV shows, and enjoying your favorite music.
View on Amazon: Sennheiser RS 175 RF Wireless Headphone System
10. Sennheiser PXC 550-II Wireless NoiseGard Adaptive Noise Canceling
Loudest Headphones for Entertainment While Traveling
Excellent audio performance with deep bass and sculpted highs
Great active noise suppression
Amazon Alexa support
Bluetooth multipoint
Portable, comfy design
Bluetooth 5.0, SBC, aptX, aptX Low Latency, AAC, as well as wired
Quick charging
Easy to use controls
Midrange might sound a little harsh
Headphones can feel a bit tight for larger heads
The Sennheiser PXC 550-II Wireless NoiseGard Adaptive Noise Canceling Headphones prioritize performance and practicality over design. To keep the headphones' weight to a minimum, essential for day-long listening or use for entertainment while traveling, they have all-plastic ear cups and thin yokes, neither of which give off a premium appearance.
These headphones are over-ear and include a leatherette-trimmed headband and earcups for a matte look. The exterior panels of the earcups are touch-sensitive controls, although you wouldn't know it by looking at them. Ear-shaped earcups provide a snug, comfortable fit that actively shuts out a significant amount of ambient noise.
It's unusual for headphones in this price range to represent low and middle frequencies accurately, but these do. The output is high quality so you can hear the bass drum, the vocals, and the prominent instruments like the guitar. You can choose from four predefined EQ modes (Neutral, Club, Movie, and Speech) or program your own. However, the EQ controls are quite restricted, allowing for three different possibilities for each of the four changes (Boost, Spatial, Reverb, and DLC).
In conclusion, the noise-canceling and audio performance of the Sennheiser PXC 550-II Wireless NoiseGard Adaptive Noise Cancelling Headphones are top-notch. Their folding design and good battery life make them perfect for a person who travels a lot as they are easier to carry.
View on Amazon: Sennheiser PXC 550-II Wireless NoiseGard Adaptive Noise Canceling
11. Bowers & Wilkins PX7 Wireless Noise Canceling Over-Ear Headphones
Loudest Headphones With Excellent Comfort
Superior noise isolation
Excellent sound quality and volume levels
Great comfort; supremely padded ear cups
Three-level noise cancelation
Long battery life
Superbly robust sound
Adaptive connection choices include SBC, AAC, aptX HD, and aptX
Max Volume: 111 dB
The Bowers & Wilkins PX7 Wireless Noise Cancelling Over-Ear Headphones are obvious improvements over their forerunners, featuring a trademarked emblem and a fabric finish on the oval earcups. Various design changes have been made to increase convenience and ease of use. PX7 improves upon previous versions in terms of use, noise isolation, volume levels and audio quality significantly.
We evaluated and found that using matte fabric and plastic coated to seem like unpolished metal on the backs of the ear cups is a nice variation from rival models' relatively lifeless black and bland aesthetics. With the help of the C-shaped yoke and band, which is covered in the same material as the ear cups, you can rotate each cup up to 180 degrees. The band has a leather underside where it rests on your head, making them very comfortable to wear for longer periods.
The soundstage is surprisingly broad and spacious, especially for closed-back headphones, and the vocals are very clear. The PX7 provides a rich, heartfelt sound. When listening to them, you get the impression that you are wearing a short version of the legendary full-size Bowers & Wilkins speakers. The noise cancelation feature of PX7 is not less than phenomenal.
In conclusion, the Bowers & Wilkins PX7 Wireless Noise Canceling Over-Ear Headphones sound fantastic, look great, and feel wonderful. With an ambient-aware mode and their ability to filter out a lot of background noise, you can take your music wherever you want.
View on Amazon: Bowers & Wilkins PX7 Wireless Noise Canceling Over-Ear Headphones
12. Beats Studio3 Wireless Noise Canceling Over-Ear Headphones
Loudest Portable Headphones
Numerous color choices
Smooth matte surface
Good battery life
Deep and clear Bass
Good quality construction
Superior wireless connection
Crisp and clear sound; great volume levels
Max Volume: 105.37 dB
If you're looking for portable headphones with excellent volume levels, the Beats Studio3 Wireless Noise Canceling Over-Ear Headphones can be a great choice. The active noise cancelation, stylish design, and decent audio quality help relieve the stress of urban living. When you factor in the long battery life and Apple W1 processor, you get a portable set of headphones that are a breeze to use, especially if you have an iPhone.
The Beats Studio3 Wireless is constructed out of matte plastic that is very comfortable to hold and use. Their soft ear cups are a wonderful touch and don't attract fingerprints as much as you would think. The headphones include a foldable design that makes them ideal for transport, and you can adjust their headband for a comfortable fit. You can tell that the Studio3 Wireless is rigid since the headphones creak and flex when subjected to even a small amount of torque.
Studio3's sound is more refined and professional than those of its predecessors. That's not to suggest it lacks power; rather, it puts more of a spotlight on the upper bass range than on the lower and sub-bass ranges. Some contexts are ideal for this strategy, while others are not. This stronger bass focus may undesirably affect voice texture by drowning out the lower mid tones.
In conclusion, the Beats Studio3 Wireless Noise Cancelling Over-Ear Headphones are a huge step forward from the previous generation. These headphones are useful because of the W1 processor, which has enhanced battery life, streamlined wireless performance, and reduced distortion. The noise cancellation has also improved; however, it is still not as good as the finest on the market.
View on Amazon: Beats Studio3 Wireless Noise Canceling Over-Ear Headphones
13. Apple AirPods Pro (2nd Generation) Wireless Earbuds
Loudest Wireless Earbuds
Adaptive transparency and active noise cancellation modes
Great self-wear monitoring
Waterproof buds and case
Comfortable, with a choice of four ear tip sizes (XS-L)
Stems that respond to pressure and sliding controls
Stellar volume levels
Max Volume: 102 dB
We did not experience any issues with these earbuds
The Apple AirPods Pro (2nd Generation) can be a great option if you're looking for loud earbuds. It's safe to say that the latest iteration of AirPods Pro is an improvement over its predecessor. The U1 chip and built-in speaker in the casing make it easy to find using Apple's Find My app, while the H2 chip improves active noise cancellation (ANC) and battery life.
The original and updated AirPods Pro appear identical, even in the glossy white charging cases. Apple has now included a silver lanyard loop and speaker to the previously blank cube. When using the newer model of AirPods Pro, you can adjust the volume by sliding your finger up or down the force-touch region on each earpiece. The stemmed earbuds easily slip out of the case and back in.
As long as you find a suitable fit, the AirPods Pro (2nd Generation) will provide engaging sound to almost any music piece. When we listened to Wake Me Up by Avicii at the maximum volume, the sound was clear, immersive, and spacious—vastly superior to that of the first generation. We agree with Apple's assertion that the AirPods Pro (2nd Gen) has better dynamic noise cancellation capabilities owing to the H2 chip. As a result, the volume of external noise noticeably dropped even when music was not playing.
In conclusion, the Apple AirPods Pro (2nd Generation) Wireless Earbuds are among the best true wireless earbuds on the market, thanks to their enhanced sound quality, loudness, active noise cancelation, cutting-edge charging case, and other remarkable features.
View on Amazon: Apple AirPods Pro (2nd Generation) Wireless Earbuds
14. 1MORE Triple Driver In-Ear Earphones Hi-Res Headphones
Loudest Wired Earbuds
Made of a sturdy metal
Fit well inside the ears
Cost-effective
Straightforward and user-friendly controls
Great volume levels
Crisp and clear audio
Great bass
Cord could have been more durable
The 1More Triple Driver In-Ear Headphones come with a stylish design and deliver loud, superior sound. They serve the need of anyone searching for a simple plug-and-play solution, thanks to the high-quality sound and sturdy connection.
The earbuds' brushed metal surface and two-tone cable contribute to its high-end feel. The earphones' cable stayed firmly affixed throughout our evaluation, which was a major plus! The controls are easy to use, with large, responsive buttons allowing quick access to the most important options.
When it comes to frequency responsiveness, the Triple Driver is consistently impressive. Every time you put on your headphones, you'll have an immersive listening experience and hear the same amount of bass and treble. The bass is spot-on in terms of precision. The response is boosted, giving your mixes more thump, rumble, and boom—perfect for electronic dance music (EDM) and hip-hop.
In conclusion, 1MORE Triple Driver In-Ear Earphones Hi-Res Headphones are a great choice if you want the wired loudest headphones. In addition to delivering excellent sound quality and being inexpensive, they are also quite portable and surprisingly well-made. They are a solid wired alternative for most uses and even exceed some of the more expensive in-ear headphones available.
View on Amazon: 1MORE Triple Driver In-Ear Earphones Hi-Res Headphones
Frequently Asked Questions About Loud Headphones
What is the highest dB in headphones and earbuds?
he maximum dB in headphones and earbuds is 126. The Skullcandy Cassette Wireless Over-Ear Headphones are one of the loudest headphones that deliver a maximum volume of 126 decibels, making them the loudest on the market.
Are loud headphones safe for ears?
They are safe if you listen to anything that clocks 85dB or less. However, loud noises of more than 85 to 90 decibels can permanently damage a human's hearing. Moreover, if you choose to hear music that is louder than 85 dB for long periods, you will significantly exacerbate whatever damage you may have caused to your ear canal.
Final Words
If you don't know how loudness requirements work, a good rule of thumb is that most high-quality headphones will peak somewhere over 100 dB. If you want our recommendation and are looking for loud headphones, which sound great and are comfortable, then Sony WH-1000XM5 Headphones are the ones you must go for.
With that said, a lot will depend on what you need. Do you prefer wired headphones or wireless, is noise canceling your priority or a comfortable listening experience? Is loud music all you want, or do you care about the frequency response? If you're on the market for a new pair of the loudest headphones, it's important to be sure they have the features you need and can withstand regular use.