We often discuss the importance of the sound quality of headphones. Also, the aesthetics and design of the headphones are deemed to be equally important. Lest we forget, the comfort level of the headphones is given utmost importance. But what's often taken for granted is the durability of a pair of headphones. Many audiophiles and music professionals avoid purchasing some of the most durable headphones because of their sound quality. However, the strength of the headphones is what ultimately decides its longevity.
What's the point of buying headphones that have amazing sound quality but very poor durability. Therefore, headphones, much like any other necessities, have to have a balance between a number of factors, to be called the right choice.
However, finding the right durable headphones can be a daunting task. Therefore, to help you make an informed purchase, our experts found 30 durable headphones on the market and tested them thoroughly over 3 months. In the end, they shortlisted these 7 most durable headphones.
Roundup of the Most Durable Headphones
In this guide, we'll provide you with a detailed overview of our experience with these headphones, list their pros and cons, discuss the important factors you should consider while buying headphones and answer some frequently asked questions about durable headphones. Let's begin!
Important Factors to Be Considered While Purchasing Headphones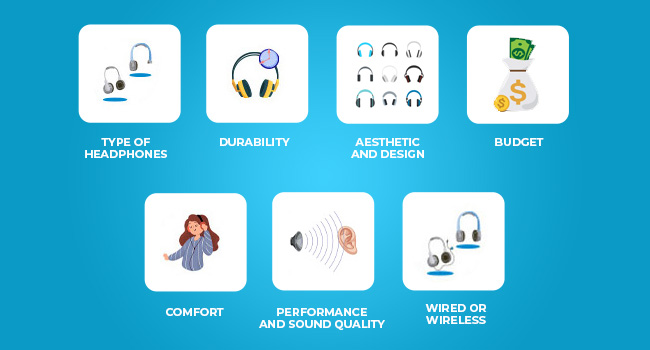 1. Type of Headphones
Foremost of all concerns is the type of headphones you wish to buy. These may be in-ear, on-ear or over-the-ear headphones.
2. Durability
While most people neglect it, the durability of headphones should be the most critical factor that should be considered while purchasing headphones. Without the right strength, everything else is meaningless when it comes to headphones. Durability includes not just the strength but also the ability to work smoothly through constant wear and tear.
3. Aesthetic and Design
The aesthetics and design of a pair of headphones may not be important for some users. But for the others, unless the headphones look amazing, they're not an option. Foldable or not? Stable or not? Extendable or not? These are some questions that come to mind when talking about the aesthetics of a pair of headphones.
4. Budget
We can boast all we want about how price doesn't matter, but let's get real, price does matter a great deal. Spending hundreds of dollars on a pair of headphones may not make a difference to some but can be a big consideration for those on a shoestring budget.
5. Comfort
Life is all about comfort in today's time. And, headphones are no different. The comfort-level of headphones depends on the type of ear cups they have (the size and type of foam being used), the tightness of the headband around your skull, etc.
6. Performance and Sound Quality
Much like durability, what's the point of buying a pair of headphones that have poor sound output. If the sound is not clear and crisp enough, your headphones aren't good enough. This includes the quality of bass, mids and trebles. Also, the performance may include noise-isolation abilities.
7. Wired or Wireless
Some people prefer wireless headphones as they give you more mobility. However, others prefer wired headphones because unlike the former, wired headphones don't run on battery.
Our List of Most Durable and Rugged Headphones
Today, our focus is on shortlisting the most durable headphones out on the market. Trust us, they will stand by you against the test of time. Let's look at their detailed reviews one by one.
1. Sennheiser Momentum 2.0 Wireless with Active Noise Cancellation
Overall Most Durable Headphones
Extremely durable and sturdy
Made of premium-quality materials
Looks stylish and attractive
Surprisingly lightweight
Extremely comfortable for long listening sessions
Excellent noise-canceling
Great call quality
Fantastic battery life
Durable and collapsible headband
We did not experience any issues with these headphones
Out of all the durable headphones we tested, we found the Sennheiser Momentum 2.0 Wireless Headphones with Active Noise Cancellation to be the most durable and sturdy of all.
Firstly, these over-the-ear headphones are designed to last. They comprise large ear cups and are covered with premium-quality leather and memory foam. Therefore, they are extremely comfortable. The stainless-steel headband is the backbone of these headphones. It is foldable and tough. In fact, it is the most durable part of these headphones.
Secondly, the audio performance delivered by these headphones is simply outstanding. Multiple technologies come together to make these headphones sound fantastic. The NoiseGard Hybrid Noise Cancelation technology coupled with 4 noise-canceling microphones eliminates unwanted external disturbances and allows you to concentrate on what you're listening to.
While Bose is a top player when it comes to noise-canceling headphones, Sennheiser has done a pretty good job with the Sennheiser Momentum 2.0 Wireless Headphones. In fact, these headphones sound like audiophile headphones. The sound is clear and crisp. They have the richest spectrum. You can hear the subtle raspy timbre of a voice or the expressive nuance of a bass tone. The sound is even slightly more luscious in passive wired mode.
Thirdly, these headphones come with multiple connectivity options. You can use Bluetooth and NFC to use these headphones wirelessly. Pairing is easy and quick. You can also use the wire to use these headphones as wired headphones based on your requirements. The detachable cable is also quite durable and sturdy. Ensure you insert the cable into the headphone jack until it clicks and twist it clockwise (to the right) to lock it in place. The detachable cable comprises plugs at both the ends.
In conclusion, every physical feature and technical functionality of the Sennheiser Momentum 2.0 Wireless Headphones with Active Noise Cancellation speaks of "durability." These headphones work perfectly with all Bluetooth devices, even mobile phones. The battery life is also excellent. You can use these headphones for up to 22 hours (when fully charged) straight, without any hiccups.
View on Amazon: Sennheiser Momentum 2.0 Wireless with Active Noise Cancellation
2. V-MODA Crossfade 2
Most Durable Wireless Headphones
Comfortable and lightweight
Extremely durable and rugged
Booming bass; balanced
Clear mids and highs
Quick Bluetooth connectivity
Excellent sound quality
Good battery life
Deep lows and clear trebles
Top-notch quality
We did not experience any issues with these headphones
With almost military-like durability, the Crossfade 2 is virtually indestructible. The headband is a steelflex headband that can be folded and twisted without any issues. The covering of the headband uses virgin-leather to give it that extra resilience to wear and tear. Unlike the plastic headbands used in many headphones, this still steelflex headband gives an added strength to the whole structure of the Crossfade 2.
The cables and the 45-degree audio-plug are rugged too. V-MODA claims that users can bend and fold these cables over 1 million times before any kind of wear and tear. Also, the Crossfade 2 headphones come with an exo-skeleton carry case that only adds to its durability.
The headphones also hold their ground when it comes to battling outdoor elements. They are resistant to cold, hot and humid climates. Lastly, the large-sized memory foam ear cups are extremely comfortable and enhance the overall durability of these headphones.
Talking about the performance, there's not much that needs endorsement. V-MODA has maintained their audio quality over the years and not failed with the Crossfade 2 either. The headphones come with 50 mm dual-diaphragm drivers that give an amazing audio output. They have a frequency range from 5 Hz – 40,000 Hz. The dual drivers ensure that the bass does not lurk into the mids and treble.
Another important feature of these wireless headphones is their battery life and connectivity distance. The V-MODA Crossfade 2 headphones come with a 14-hour battery life on a full charge and can be connected from 33-feet away (10 meters). On a quick 30-minute charge, you can get a playback time of up to 4 hours. Insane, isn't it?
V-Moda is one of the best known brands out there when we talk about headphones. It is not only due to their product aesthetics and sound quality but also because they have some of the most sturdy and rugged headphones to choose from. The V-MODA Crossfade 2 Wireless Headphones shout out the word "durable." These headphones are the most durable wireless headphones on the market.
View on Amazon: V-MODA Crossfade 2
3. Sony MDR1000X
Most Durable Noise-Canceling Headphones
Great sound quality
Durable and sturdy; great build
Comfortable
Excellent noise-cancelation
Compelling features, such as Quick Attention
Good battery life
Ideal weight; neither too heavy nor too light
Reliable Bluetooth connectivity
Great microphone quality
We did not experience any issues with these headphones
There is probably no bigger name in the electronics industry than Sony. From televisions, home theatre systems, the PlayStation, PCs, smartphones to audio accessories, Sony has given users amazing products. Year after year, they bring in new products to add to their already lavish list of electronics. Same is the case with their headphones.
The Sony MDR1000X headphones are the most durable noise-cancelling headphones available. These wireless headphones give users a great high-fidelity sound output along with a lot of durability. The matte-finish color theme gives the headphones an added edge over their competition.
Sony claims that the MDR1000X headphones are one of the industry-leading noise-cancelling headphones, and our experts second that. These headphones use a personal noise-cancelling optimizer that adjusts the level of noise per your environment.
It's not just the noise-cancelling ability that makes these headphones stand out but also their 'Quick Attention' feature. This feature allows you to listen to your surroundings immediately without having to take off your headphones. How, you ask? Simply by cupping the right ear cup of your headphones. The pair of headphones are completely manageable using touch controls present on the right earcup.
The headphones have a 40 mm audio driver that allows for Hi-Fi sound output with a frequency range of 5 Hz – 40,000 Hz. The battery life of Sony MDR1000X is amazing, running up to 20 hours on a full charge.
Sony has used all premium materials while building this beauty. So, you can rest assured that the durability of these headphones is better than most. The headphones also come with a hard carry case for you to carry them around hassle-free. Sounds like the complete package!
Buy on Amazon: Sony MDR1000X
4. Symphonized Wraith 2.0
Most Durable Budget Headphones
Heavy bass
Extremely comfortable
One of the most rugged headphones on the market
Good microphone quality
Crisp mids and highs; clear lows
Can be used as both wired and wireless headphones
Come with a good-quality headphones cover
Excellent sound quality
The sound quality is average at low volume
The adjustable padded-headband along with the cushioned large-sized foam ear cups ensure utmost comfort to users. This also allows the Wraith 2.0 to be used for extended periods. The ear cups come with in-line buttons for call, playback and volume control.
The headphones also come with a wire if you wish to use them as wired headphones. On a full charge, which takes only 2 hours, the headphones give a playback time of up to 10 hours. You can stay connected to the headphones, wirelessly, at a distance of up to 33 feet (10 meters).
The Wraith 2.0 headphones have a 40 mm audio driver that has a frequency range of 18 Hz – 22,000 Hz. These drivers ensure the users get high-quality audio output with a pleasant balance between the bass, mids and trebles.
Symphonized is a brand that is well-known for its wooden-themed audio accessories. Symphonized Wraith 2.0 Wireless headphones are no different. These are the most beautiful-looking budget headphones out there. Our experts have shortlisted these as the most durable budget headphones on the market right now. Their aluminum and wooden build give you sturdiness of the highest level. You cannot raise any questions on the premium-quality build of these headphones.
View on Amazon: Symphonized Wraith 2.0 Wireless
5. Sennheiser HD1
Most Durable Neckband Headphones
Audiophile headphones
Excellent sound quality
Comfortable and lightweight
Really rugged
Great sound range
Amazing fidelity
Both active and passive noise-canceling
Stylish retro look
Wider than most headphones on our list
Sennheiser is a name that users associate with the best headphones, be it in-ear or over-the-ear. Senheisser's HD 1 headphones are our experts' pick for the most durable neckband headphones.
Neckband headphones are in-ear headphones that come with a band-like structure that does not go on top of your head but around your neck. The headphones' wires extend from this neckband into your ears. Neckbands allow users to hand down their in-ear headphones conveniently, without worrying about dropping them, especially while running. Also, these are more comfortable to use in place of bulky over-the-ear headphones.
One common issue with most neckband headphones is that they are easily breakable. The neckband itself is made of soft-stitched sheepskin nappa leather, which gives it great durability. Even if folded or twisted, these headphones can hold their own.
These wireless neckband headphones have in-line button controls in the neckband, allowing easy pairing through Bluetooth or NFC. The wireless audio output is crystal clear, thanks to AAC Codec support and Qualcomm apt-X compatibility. The HD 1 has a frequency range of 18 – 22,000 Hz.
The Sennheiser HD1 headphones have a battery life of up to 10 hours on a full charge that takes up to 1.5 hours to complete. Unlike many wireless headphones, you can connect with them with 2 devices at a time. The headphones scream the word premium.
View on Amazon: Sennheiser HD1
6. Jaybird Vista
Most Durable Headphones for Running and Sports
Comfortable to wear all day
Great sound quality
Durable and sturdy
Premium-quality magnetic charging case
Good microphone quality for calls
Instantly connect to other Bluetooth devices
Compact and portable
Good noise-cancelation
Fit accurately in the ears
We noticed a minor hissing sound at very low volume (only a few times)
Many sports, especially running, are incomplete without music these days. Sports enthusiasts and runners prefer beats and bass to pump up their adrenaline while they are working out. Since running and gymming are activities where you can easily damage your headphones, you need durable ones.
These headphones are truly wireless headphones, which means they have no bands or wires. They're simply 2 earbuds that go inside each of your ears. Jaybird Vista headphones are probably the most lightweight and small yet premium headphones on the market.
Jaybird has given these headphones an `Earth Proof" tag. This means that the headphones are crush-proof, dust-proof, sweat-proof and most of all, waterproof. The Vista has an IPX rating of IPX7, which is the second highest on the IPX rating scale.
The headphones provide a total backup of 16 hours on a full charge and up to 32 hours if only using a single earbud. The earbuds come with different size ear-tips to give you a snug-fit. A snug-fight is of the utmost importance when it comes to headphones for gymming. The headphones come with a compact charging case that makes them easy to carry around and charge on-the-go.
Also, if you think losing them can be a problem, you can easily find your Jaybird Vista earbuds using the 'Find My Buds' feature on the Jaybird app. All in all, Jaybird Vista headphones, with their 6 mm audio drivers, are not only the most durable headphones for running but also the most premium truly wireless headphones.
The Jaybird Vista are the most durable headphones for running. Jaybird is a name that is associated with the best headphones for running, sports and gymming.
View on Amazon: Jaybird Vista
7. Barks Bulk Classroom Headphones
Most Durable Headphones For the Classroom
Excellent classroom headphones
Great price
Extremely durable and sturdy
Comfortable and easily adjustable; lightweight
Good noise-cancelation
We did not experience any issues with these headphones
A recent trend that has been on the rise is students using headphones in the classroom. Wondering why? To help students with hearing issues hear everything crystal clear. On top of that, with headphones in place, students are less likely to be distracted and are more likely to be focused on what they are listening to.
Teachers can use a mic to send input to the headphones and the students can also use the headphones while watching classroom-related videos. The most durable headphones for the classroom are Barks Bulk Classroom Headphones. Most headphones are not made with classroom teaching in mind. Nevertheless, the Barks Bulk Classroom Headphones are an exception.
They have been designed keeping in mind kids and classroom learning. The headphones have a durable design, allowing them to take on a classroom environment's wear and tear. The adjustable headband can be twisted at different angles but will still not break or snap. The foam ear cups have been made using premium-quality materials to ensure the children have a comfortable time using them. Cleaning these headphones is also very easy.
Lastly, their over-the-ear design allows for a comfortable level of noise cancellation. This allows children to grasp things faster and also does not let them get distracted very easily. So, if you want classroom headphones, buy the Barks Bulk Classroom Headphones.
View on Amazon: Barks Bulk Classroom
Frequently Asked Questions About the Most Durable Headphones
Which are the most durable DJ headphones?
Some of the most durable DJ headphones are:

– Audio Technica ATH-M50X- Pioneer Pro HDJ-2000MK2
– V-MODA Crossfade LP2
– Sennheiser HD 25
– Sony MDR V500
What all elements of headphones should be checked for durability?
Following are the elements that primarily determine the durability of headphones:

– Headband/neckband
– Ear cups/earbuds
– Wires
– Audio plug
– In-line control buttons
Are wireless headphones durable?
The durability of headphones depends  on the quality of the materials used than the type of headphones. Be it in-ear, on-ear, over-the-ear, truly wireless, wired or wireless headphones, they're only as durable as the materials that go into making them. In hindsight, one may say that wireless headphones have one less element to worry about when it comes to durability, i.e., the audio cable.
Are expensive headphones worth it?
Definitely, more expensive headphones tend to have better materials used in making them. This not only adds to their audio output, but definitely adds on to their durability and ruggedness. That does not mean that the cheaper headphones will have less durability. Some headphones, like the Symphonized Wraith 2.0 are cheaper than Bose, Sony or Sennheiser headphones, but are still very rugged and sturdy.
Why do my headphones keep breaking?
Although the question is very subjective, there are a few reasons why headphones generally break. They are:

– Not keeping the headphones properly in a designated bag or case.
– Throwing them around when taking them off.

Often sitting on them carelessly. The simple way of keeping your headphones from breaking is by staying a little bit more careful around them. One should always keep their headphones in a carry case, when not in use. Also, doing a little research about the durability of a pair of headphones will come in handy.
Final Verdict
So, what we conclude is the fact that durability of a pair of headphones is as important as the design and sound quality of the same. We've also learnt that the brands, such as, Sony, Sennheiser, Bose, themselves focus on product quality as much as the performance. One should never compromise on the product quality for a matter of a few dollars. So go get your set of cans from our list of most durable headphones of 2023. If you prefer earbuds or earphones over headphones, you can check out our guide on the most durable earbuds and earphones.
If you have any queries, questions or suggestions, feel free to let us know in the comments section below!